SoundExchange Paid Out a Whopping $773 Million in 2014
As subscription services dominate public debate, new revenue figures show that Internet and satellite radio are making a huge imprint on the U.S. record business. Last year's digital performance royalty distributions by SoundExchange rose 31 percent to $773 million and have climbed 207 percent over the last four years.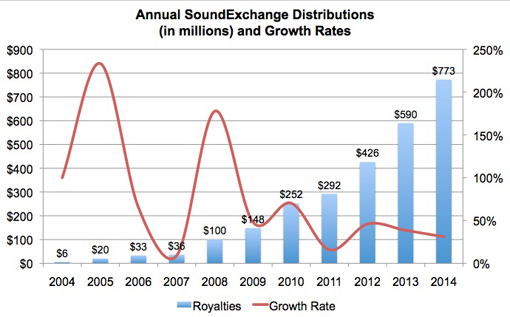 Another way to appreciate SoundExchange's ascension is to look at annual growth in dollar terms. Last year distributions grew $183 million, up from $164 million in 2013 and $134 million in 2012. The rate of growth may have slowed -- 31 percent last year compared to 46 percent in 2012 -- but the dollar increase has increased.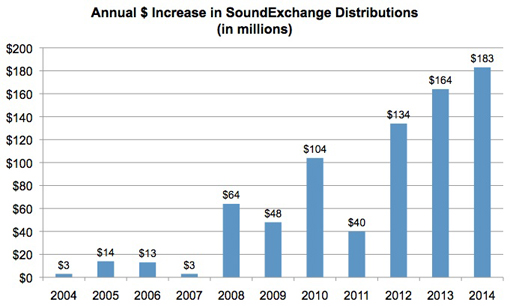 To put SoundExchange in perspective, consider its distributions of the first half of 2014, $323 million, were considerably higher than the royalties earned from subscription services,
according to RIAA's mid-year report
. The retail value of subscriptions was $371.4 million. Assuming subscription services paid 70 percent of revenue, rights owners would have collected $260 million.

Related

The impressive growth reflects the growing influence of the performance rights organization that collects and distributes royalties for Internet radio, satellite radio and cable radio. Distributions totaled just $36 million in 2007, the year before Pandora launched its popular iPhone app. The organization hit the $100-million mark the following year and surpassed $250 million in 2010.
SoundExchange has grown mighty with the help of popular services like Pandora and SiriusXM Radio, which have 76.5 million active users and 27.3 million subscribers, respectively. New services are especially popular among younger consumers. A new Edison Research survey found listeners aged 13 to 17 spent more time listening to streaming audio every day, 64 minutes, than to AM/FM radio, 53 minutes.

Internet Radio's Audience Turns Marketer Heads
Despite small audience, internet radio ads have a special appeal to marketers
February 6, 2013 |
Media & Entertainment
The internet radio audience is growing thanks to shifts in consumer listening behavior from terrestrial radio to streaming stations, according to a new eMarketer report, "Internet Radio: Marketers Move In." Users are embracing internet radio on a growing range of devices, from PCs, smartphones and tablets to automobiles, connected home appliances and other gadgets.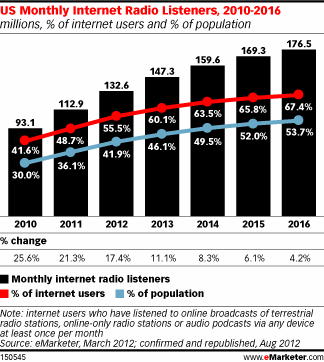 Internet radio is monetized primarily by advertising, but the industry is a small player within the digital advertising ecosystem. Growth forecasts for internet radio advertising, though positive, are more modest than for other categories of digital ad spending.
Still, advertisers are eager to attach their brands to internet broadcasting and other music-streaming properties. There are several reasons for this, among them: the appeal of associating a brand with a particular genre or artist; the extent to which internet radio is driven primarily by ads; and the appeal of in-steam audio ads, which are harder to avoid or skip than other forms of digital advertising.
In 2013, the number of US internet radio listeners will grow by 11.1% to 147.3 million. Expansion will continue for the next several years, though rates will taper off to single-digit percentages.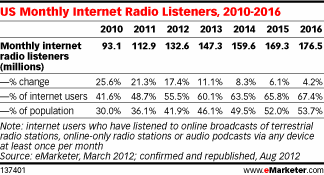 As the internet radio audience grows, the landscape of revenue models is changing rapidly. There are services that offer free, ad-supported subscriptions, ad-free access for monthly or annual fees, and subscription-only services.
Still, most of the dollars that fuel the internet radio industry come from advertising, followed by a smaller percentage that stem from subscription fees.
eMarketer estimates that internet radio ad spending in the US will reach $970 million in 2013 and grow to $1.31 billion by 2016.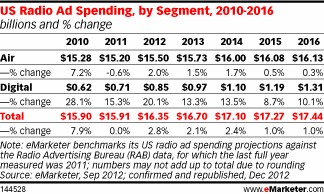 These figures are benchmarked from the Radio Advertising Bureau (RAB), which defines digital as follows: "All revenue derived from the [radio station] website including banner ads, tile ads, pop-up ads, internet/web streaming and dedicated streaming advertising, ecommerce, text and email messaging, other mobile media, and web-affiliate relationships (local or national)." The RAB also includes HD radio in its definition of digital.
Even if growth in internet radio continues, streaming services face significant monetization challenges. Licensing costs are high for services like Pandora and Spotify and could rise further as laws expire and contracts come up for renewal. Furthermore, the ad inventory on these services is limited. Subscribers see no ads at all, and users who opt for free, ad-supported tiers generally do not tolerate heavy ad loads.
To overcome these obstacles, streaming services will need to continue growing their audiences, diversifying into new venues and innovating novel ways to work with marketers.

The full report, "Internet Radio: Marketers Move In" also answers these key questions:

How many people are using internet radio services, and how are they using them?

What are the key audience and revenue metrics of the leading services?

Why are marketers embracing internet radio despite the industry's limited size?

How is the internet radio industry addressing monetization challenges?
This report is available to eMarketer corporate subscription clients only. eMarketer clients, log in and
view the report now
.
Check out today's other articles, "
Advertisers Deploy, Optimize Video Content
" and "
Russia's Digital Ecosystem Shaped by Market Nuances
."
- See more at: http://www.emarketer.com/Article/Internet-Radios-Audience-Turns-Marketer-Heads/1009652#sthash.1q1S8vSI.dpuf